With the two year mark of the Haiti earthquake approaching, the tides are moving towards revitalization…through bricks, mortar, and even the culture of its people, undeniably Haiti's greatest natural resource. While the focus up until now has been on building homes for people still living in the tent cities, Jacmel, often described as Haiti's most beautiful city and one of the country's few tourist destinations, is, perhaps, the place of hope where an art revival is also leading to the county's revitalization.
During this year's Art Basel, the "Les Jacmeliens 2011" exhibition marks the official launch of the first art exhibition that bridges Haiti's renowned Arts District in Jacmel Haiti with the Art District of Miami. "Les Jacmeliens" debuts a group exhibition that will feature works by two Haitian artists from Jacmel – Dufo and Carel Blain – together with works by local Haitian-American contemporary artist Reynald Poisson.
The exhibition unveils with an opening reception at the Haitian Heritage Museum (HHM) on Thursday, December 1st at 7pm.  An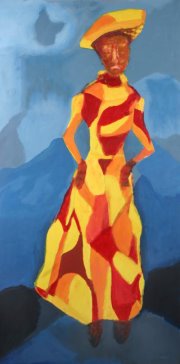 intimate Art Talk and cross border dialogue with the Haitian artists will be held on Friday, December 2nd at 7pm. Art lovers will be intrigued by the discussion of the artist's unique expressions that celebrate the shifting tides in Haiti, its Arts scene and its impact in the Diaspora.  This platform will bring the country's artistic players to the forefront of Miami's bustling arts movement. The exhibition is being featured at the Haitian Heritage Museum located at 4141 NE 2nd Avenue, Suite 105C.
During Art Basel 2010, the HHM featured an exhibition by Haitian artist Jhon Charles, a survivor of the Haiti earthquake. Charles' collection was expressive of that moment and offered a unique artistic perspective of the days and weeks that followed the tragic earthquake with pieces of his collection now archived at the Haitian Heritage Museum.
In addition to the "Les Jacmeliens" exhibition, the museum continues to provide its marquee educational outreach program in three Miami-Dade County Public Schools- North Miami Senior High, North Miami Middle, and W.J. Bryan Elementary. Geared towards educating students about Haitian culture and history, the program also impacts the Haitian students displaced by the earthquake and helps these students eliminate feelings of isolation and alienation of living in a new country.
For more information on the opening reception for "Les Jacmeliens," please contact the Haitian Heritage Museum at (305) 371-5988.