I recently had a conversation with a frustrated non-profit founder...the kind of frustration where you're stuck and don't know what to do next and what went wrong. This non-profit was frustrated because their big, great idea for a cause campaign was failing big time -- failing to pick up traction and buy-in from the media, donors, partners, and community at large. At the same time, I picked up a cute little book (that at first glance appears to be just that but is potent for your good) written by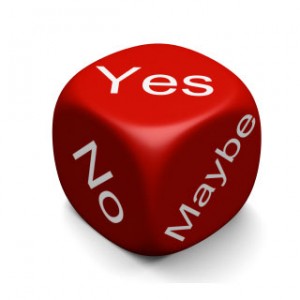 marketing genius, Seth Godin. Like the all time favorite children's book "The Little Engine That Could,' this book, "The Dip: A Little Book That Teaches Us When to Quit and When to Stick," was a little book on quitting...quitting the right thing at the right time. Going back to the frustrated non-profit, there's a profound statement in the book that says, "If you pick the right thing and do it all the way, that's the easiest way to be the best in the world." This statement is in reference to how the #1 top spot gets ten times the benefit of the #10 and 100 times the benefit of #100. The same applies for non-profits who are at a crossroads whether it's with their current organizational structure, a cause campaign, donor engagement, brand awareness, etc. My advice to the frustrated non-profit was that sometimes you have to know when to quit and move on.
You've written what you believe to be the perfect appeal letter or email targeted to your donors. You're sure that this time around your call to action will drive an influx of new donations and inspire passive donors to contribute to a specific giving campaign. So the letter is good to go and ready to be sent. You hit send and await the donations to start to pouring in...but nothing happens or at least no significant donations have been made. So what went wrong?
Meanwhile you see other organizations like Tweetsgiving and charity:Water use the power of Twitter to raise $20,000 or more in just a matter of days, but your cause fails to get that type of buzz.
In just the blink of an eye, 2011 will be behind us and 2012 will be staring us dead in the face. Besides the normal challenges that come with planning for a new year, many companies simply struggle to maintain top of mind awareness and this eventually has a negative impact on brand positioning, public perception, and ultimately, sales. What other challenges is your company faced with? Is it generating media visibility, deepening brand visibility, remaining competitive, making the leap into social media, being more creative with your customer engagement tactics, or is your company simply faced with typical growing pains? Below are 7 tips to accomplishing your marketing goals in 2011.
I was invited earlier last week to serve as a panelist for the Miami-Dade Chamber of Commerce's Business Empowerment Networking Series (BENS) "Mission Possible: How to Make Your Non-profit Successful." The keynote speakers were Norman Wedderbrun, President & CEO of Make a Wish Foundation of South Florida; Javier A. Soto, President & CEO of The Miami Foundation; and Delores Dunn, President & CEO of Center for Family and Child Enrichment, Inc. The latter part of the event included Shark Tank 1.0 presented by the Chamber's Young Professionals Network (YPN). As part of the Shark Tank 1.0, five individuals with an interest in starting a non-profit organization were given an opportunity to pitch their concept before a panel of experts in the fields of marketing, finance, legal, and business development in exchange for constructive criticism, expert guidance, and a chance at a prize package worth $2,500 in consultation. Of course, I provided the marketing expertise among the expert panelists.